Preparing for Cold and Flu Season Fall 2021
Preparing for Cold and Flu Season Fall 2021
---
October 7, 2021
---
Dear University Community, 
As we continue to work to mitigate the spread of COVID-19 within our campus community, we must also prepare for the beginning of the cold and influenza ('flu") virus season. Experts are projecting an increase in flu activity this year; however, we can help stop the spread of colds, flu and other viruses on our campus if we continue to follow many of the preventive measures that are already in place and get our flu shot.
This year in particular, while we are in the midst of the COVID-19 virus pandemic, it is extremely important to get a flu shot as soon as possible to help prevent a co-infection with both viruses. Because we did not experience a true flu season last year, medical experts don't yet know how having both viruses simultaneously might impact one's health.
Getting a Flu Shot
The CDC recommends that everyone 6 months and older should get a flu vaccine, and t
he time to do so is now
. Getting the flu vaccine is one of the best actions you can take to prevent yourself from getting and having
serious symptoms or complications from the flu.
And if you have
certain health conditions
that place you at higher risk, it is especially important to get the flu shot as soon as possible and to seek medical care promptly if you do end up having the flu.
Appointments for the flu vaccine are available at the University Health Center (UHC) and can be scheduled at
myuhc.umd.edu
. In addition, the UHC will be hosting flu vaccine events on the following dates:
October 14 and October 15 at Eppley Recreation Center
October 21 and October 22 at Ritchie Coliseum
October 25 and October 26 at Ritchie Coliseum
November 2 and November 3 at Ritchie Coliseum
November 9 and November 10 at Eppley Recreation Center
These flu vaccine events will be held from 9 a.m. - 3 p.m.
If you are planning to get the flu vaccine and COVID-19 vaccine or booster, studies have shown that you can get them both and you don't need to wait in-between shots.
It is up to all of us to help prevent the spread of viruses on our campus. We encourage everyone to follow these steps: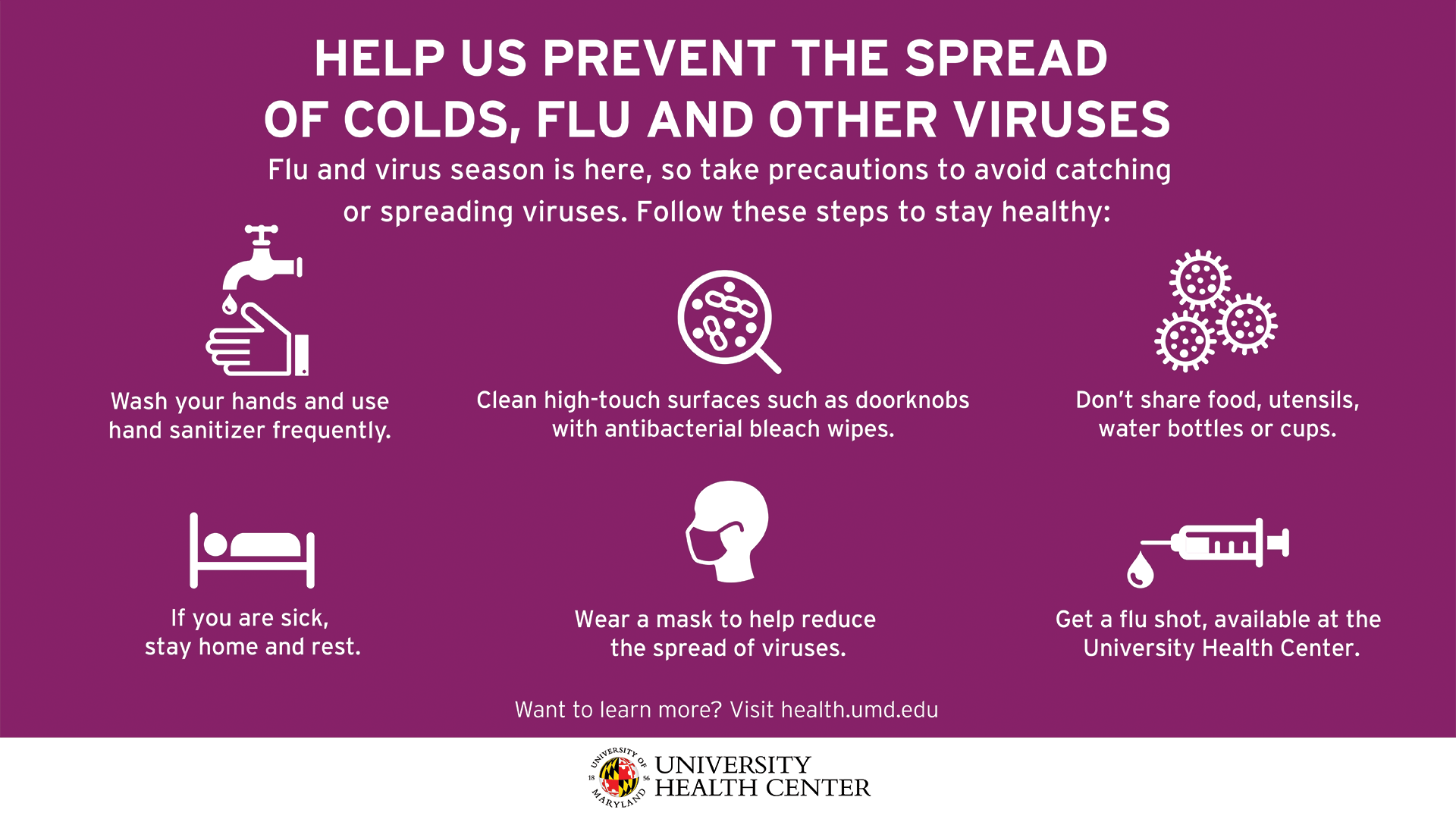 Stay healthy and be well,
Sincerely,
Spyridon S. Marinopoulos, M.D., M.B.A., F.A.C.P.
Director, University Health Center
Chief Medical Officer
He/Him/His
Additional Languages: